How easy would it be if there was some magic trick to make your windows gleam just with the snap of your fingers? Sadly, we don't live in an alternative universe of fairy tales and we need to do some work in order to get the shiny look back on our windows.
Perhaps you are wondering how often you should take out the buckets, the ladder, the sponge and experience the pain of mopping up spilled water from the floor in the living room. Well, the advice of the professional window cleaners at Fantastic Services is that you should be taking care of the windows every four to six or eight weeks.
So, here you'll find the best practical window cleaning tips and tricks using eco-friendly methods and how to save yourself from unwanted mistakes during the process.
Is Window Cleaning Seasonal?
Every season comes with its specific weather conditions. However, cleaning windows is possible all year round. You need to take that into consideration and carefully choose the right equipment and cleaning solutions you will use to perform the task.
Washing Windows During the Spring
The best time to clean dirty windows is during the spring when they are at their nastiest condition after the bitter winter period.
The recipe for great looking and shining windows includes a cloudy day. Why? If you choose a sunny one, the sunlight's accumulated heat on the windows poses a risk for the cleaning solution to dry out too fast. Meaning, the dirty streaks will remain and you have to do it all over.
Given the fact that spring is your perfect timing, should you disregard cleaning windows during the rest of the year? Let's check some seasonal characteristics.
Washing Windows During Summertime
Summer is the ideal time to rid your windows of the spring pollen and muddy rainfall streaks.
The only inconvenience is that the sun is high in the sky and shines straight into the windows. This will hide the dirt or any imperfections which have to be washed away. Also, the sun heating the glass will be more problematic, as the weather will be warmer in the morning and the cloudy days will be less. Therefore, watch the forecast for an overcast day if you do need to clean windows during summertime.
However, sunshine is far from bad for your windows. The warm weather allows you to leave them wide open during the day and they will dry faster. This is also a great opportunity to let fresh air into the rooms.
Washing Windows During The Autumn
Autumn usually comes with a rainfall. However, in big, populated and polluted areas it is not necessarily purifying because it brings down impurities and particles present in the atmosphere.
However, when you notice that your windows look dirty after a rainfall, in most cases the reason is that they were already dirty, and the water has just smeared all the adhered dust on the glass surface.
Despite that, the mild weather during autumn allows for the windows to dry without streaks. It isn't too hot for the cleaning solution to dry up fast and leave behind some unwanted smears.
Besides, the temperature outside won't be that cold for your hands to freeze during the cleaning process.
Washing Windows During The Winter
Winter is a difficult season to maintain clean windows. In case you've put them on your winter cleaning checklist, remember to use the right products, tools, and methods to preserve the quality of the glass and avoid cracks or other types of damage.

Domestic Window Cleaning All Year Round with Fantastic Services
We are certified:
How to Clean Dirty Windows During the Warm Seasons
What Supplies You Will Need
Old brush, soft broom/cloth or vacuum cleaner;
Scraper or scrubbing sponge;
Plastic drop cloth or used/old large towels;
Wash Bucket;
Stepladder;
Sponge;
Squeegee;
Telescopic Pole (for high and out of reach windows);
Window cleaning detergent or homemade window cleaning solution;
Microfibre Cleaning Cloth;
Soft cotton towel.
What to Do Before Cleaning the Windows
Dust the Blinds. Start the process by removing your blinds and wiping off the accumulated dust with microfiber cleaning cloth. To protect them and to prevent dust from gathering too quickly, spray them with an anti-static spray. If you have curtains in the rooms, remove them to be washed later. It will freshen their look and it will greatly contribute to the spruce up of your home.
Clean the Screens. Their main purpose is to prevent bugs and unwanted dirt from entering. But over time, the screens gather dust which taints the panes even more and becomes an eyesore. You should remove and scrub them with a non-abrasive brush and rinse with a hose. If you don't have a garden or an outside space where you can wash them, do it in your bathroom using the shower head.
How to Clean Windows Inside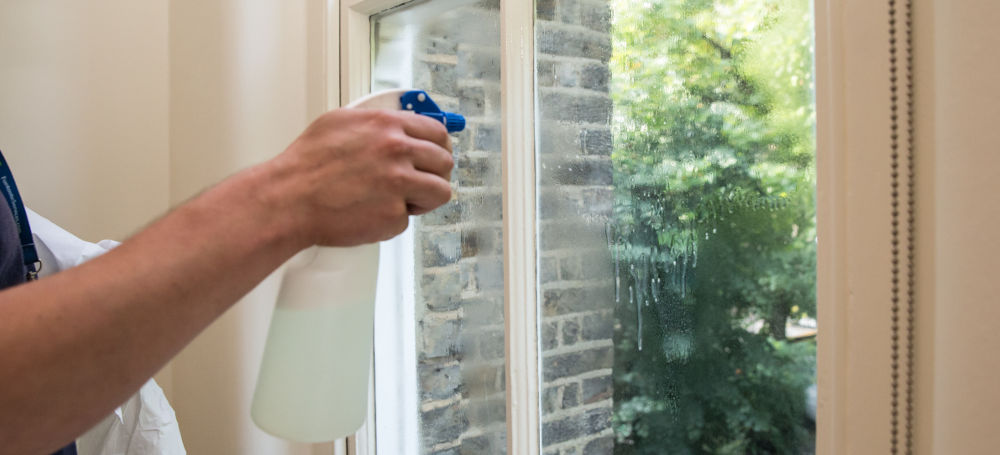 Assess whether you need to use a stepladder if the windows are high and out of reach. In that case, consider using a ladder stabilizer or use an extendable telescopic window cleaning sponge and squeegee.
Lay a plastic drop cloth or old large towels on the floor under the windows and on the sills to protect them from any water damage and scratches.
Collect the dust and dirt along the edges. You can use a brush, a soft broom, an old cloth or your vacuum cleaner to clean the seams and cracks around the window borders.
Start by preparing a homemade window cleaning solution in a large bucket. Choose the most appropriate option that suits your preferences. When preparing the cleaning solution, it would be best to use lukewarm water, making it easier to wipe the dirt away. Also, this will reduce the possibility of streaks left behind.
Use a scraper or a scrubbing sponge to remove dried paint, bird excrements, bug splatters or stickers. Apply light pressure when removing the dirt. For a better result, you can spray the sticker or the smudge with warmer water or with the cleaning solution and let it sit for a minute or two before scrubbing it off.
Dip the sponge in the bucket with the cleaning solution and squeeze out the excess water. First, wash the edges of the window and work toward the center scrubbing in large circular motions.
Use the squeegee to remove the suds and leave the panes streak-free. Place it in the upper right corner (or on the opposite one if you are left-handed) against the top moulding and move the squeegee once from the top to the bottom of the window. Next, press the squeegee blade against the pane in the upper corner where you started the first stroke and pull it horizontally from the right to left side. Clean off the solution by overlapping each stroke by about an inch and a half. After each stroke wipe the blade of the squeegee on a clean towel.
Make use of the extendable pole to cover the whole surface if the window is too high. Place the squeegee in the top corner of the pane and pull it down halfway. Work along the entire window top. Position the squeegee horizontally against the left window frame after the last vertical stroke. Part of the blade should be placed on the dry part of the window. Next, slightly tilt the squeegee down and pull across the width of the whole window.
Wipe off any leftover water or around the window edges with a microfiber cleaning cloth. Cotton material or other natural fibres can leave lint that will attract dirt and smear your window panes.
How to Clean Outside Windows
The process of cleaning your windows at home from the outside is the same as the method used for the indoor washing. One difference is that you need to spend more time on the initial phase of cleaning the windows before washing them with the cleaning solution.
First, clean away any cobwebs, bird faeces, squashed insects, and other general dirt and grime that builds up on your windows and frames. This may take up more of your time because you need to be thorough. Otherwise, you risk leaving behind dirt which could smear your window panes after the first rain even if you have washed them sparkling clean before that.
When ready you can go ahead with washing the panes, frames and sills.
As part of your equipment for this job, you will need an extendable pole or even a stepladder to reach the higher windows. If you use a stepladder, for a safety precaution you can leave the bucket with the cleaning solution on the ground and not put it on the ladder or even hold it in hand.
It's risky because you can lose balance which can cause a fractured limb. That's why if the windows are high and the cleaning process seems difficult to you look for the help from professional window cleaners.
How to Wash Windows in the Winter
The technicality of the process is the same as when washing your windows during the warm seasons. The only significant difference you must take into consideration is the low temperatures outside and how the cold glass will resonate with the cleaning solution.
Refer to some of the best tips below:
Use antifreeze (windshield washer fluid) with the window cleaning solution. When you're preparing a homemade window cleaner, use a spray bottle instead of a bucket and fill it with 2 parts antifreeze and 1 part water. If you use a ready-made cleaning solution, just add a little antifreeze to the solution and mix it well.
Use cold water. Using hot water on cold windows is a bad idea. The drastic change in temperature will cause the glass to shatter which is an issue you want to avoid. However, if the windows are frozen and you want to melt the ice before cleaning them, you can pour lukewarm water on them.
Caution when using a ladder. If you need to use a ladder to reach higher windows, make sure it is not standing on a sheet of ice. It'll be best if a friend or a family member can help you with this job and support you while you're on the ladder.
Use proper winter gear. Wear waterproof gloves to protect your hands from the cold weather and water. Also, another tip is to wear winter boots with good grips while climbing the ladder.
Domestic Window Cleaning All Year Round with Fantastic Services
We are certified:
How to Clean Window Frames
How to Clean Stained uPVC Window Frames in 4 Easy Steps
One of the most common types of frames nowadays is the uPVC. Their colour alternatives differentiate but the most preferred is the white one. This variation makes the spots of dirt more visible, but don't worry, you can get rid of them no matter how stubborn they are.
Use a ladder or a stable chair to reach higher spots. To preserve the floor or the carpet below the window from any damage lay down old towels on the sill and on the floor. To perfectly clean your vinyl window frames you should:
Use a tiny brush to remove the accumulated dust. This way persistent dust and dirt from the narrow areas will be easier to reach.
Vacuum clean hard-to-reach surfaces. With a vacuum cleaner or an extendable feather duster, you will have no issues with surfaces that are more difficult to reach.
Fill a clean bucket with lukewarm water. Soak the cloth or a towel and clean off the grime from the inside and outside of the property. After that, wipe the frames dry.
Use a window frame cleaning solution. Find such a cleaner from trusted PVC providers. This final step will restore the polished look of the vinyl frames.
What supplies and tools you will need:
Brush;
Vacuum cleaner or telescopic cleaning duster;
Clean bucket;
Warm water;
Clean cloths;
uPVC cleaning solution.
Additional tips on how to perfectly clean uPVC window frames:
Use only white towels or washing clothes. Colourful rags will make the cleaning pointless. Non-coloured cloths will never leave marks on the frames.
Don't clean with strong detergents. They can damage the surface of the frames. For example, using a huge amount of bleach may corrode the frames.
Avoid cleaning the glass using the same methods. The materials of the windows and the frames are way different. That is the reason you shouldn't work with the same methods and solutions.
How to Clean Wooden Window Frames
Cleaning wooden frame windows differs from washing uPVC frames. If they are old, additional maintenance such as painting, window frame staining and oiling might be needed. Here are a few effective ways on how to go ahead with the wooden frames cleaning.
Supplies and tools you will need:
Clean bucket;
Slightly heated water;
Soft brush;
Scouring Pad;
Soft cloth;
Vinegar.
Best method to clean wooden window frames:
Sweep the small particles of dust. Use a soft brush or polishing pad and mix it with some washing liquid of your choice.
Rinse the residues. Take a clean bucket and lukewarm water. Dip the scouring pad into the bucket and wash off all the grime and dirt.
Wipe for perfect results. Use a soft fabric to absorb the water and dry the frames.
Wooden frames cleaning tips:
Use more powerful solutions for the stubborn stains. Add a teaspoon of sodium bicarbonate to the water. It's stronger but it is ideal for stains difficult to remove such as traces of insects and birds.
Don't wet the wood too much. Make sure you don't drench the sponge or the pad, try to wring out the excess water. Make sure the equipment you use is damp, and it's not leaking with water. Otherwise, you may damage the wood.
Get rid of the mould and mildew. The easiest way to do it is to mix equal parts of water and vinegar. You need to wet the spots and leave it for several minutes. After that, use the same methods as mentioned above to clean the frames.
How to clean uPVC window sills
Cleaning window sills is a simple to accomplish endeavour. Basically, it's not that different from the way you clean the frames. To remove the stains prepare and do the following:
Supplies and tools you will need:
Small brush or q-tips;
Vacuum sweeper;
Bucket;
Warm water;
Vinegar;
Dish soap;
Baking soda;
Sponge;
Clean dust cloth;
Window sills cleaning solution.
Window sills cleaning steps:
Clear up as much dust and dirt as possible. Use the vacuum cleaner to suck up the most of the dirt. You can use a toothbrush or Q-Tips to clean the window tracks from the inside of the sills.
Deal with the obstinate stains. You'll need a clean bucket in which you can mix any cleaning solution. We suggest combining 1:1 warmish water and vinegar along with several drops of the dish soap. Then use a sponge to rub the leftover stains. If it doesn't work, either way, you can add a small amount of baking soda.
Wipe with a clean cloth. Once you scrub everything, wipe off the liquid.
Maintain clean window sills. Vacuum the tracks and the sills every 2 weeks. Use the universal cleaning solution – the mix of water and vinegar and polish them with a microfiber cloth. That way you will avoid dirt from building up through the time.
Cleaning products that might damage your sills:
Scouring pads – don't scrub the gentle upvc surface or you may regret your actions.
Wire sponge – another one product that's good for cleaning purposes, but it's better to leave it in the kitchen.
Cif cream – it's suitable for your bathroom tiles but not for cleaning sills.
WD40 – might be the can with a thousand uses, but cleaning windows and sills is not one of them.
Bleach – one very aggressive chemical agent that contains chlorine (that isn't good for your health neither).
* These tips are relevant for the uPVC types of window sills. If you have wooden ones, just make sure you don't wet them too much.
How Professional Domestic Window Cleaning Can Help You Live a Better Life
Improve your living by following these simple steps when hiring a professional window cleaner. Here's what you can do:
Hire trained window cleaners. They know the nuts and bolts of window cleaning as they've passed rigorous training.
Look out for the right equipment. Buckets, squeegees, water fed poles, window vacs, e-cloths… all these cost a lot, take up the precious storage space in your home and you need to learn how to use them the right way, too. You can save yourself from all that trouble by hiring well-equipped window cleaners.
Expect professional results. Cooking on your own (unless you are a chef) and having a meal at a quality restaurant makes a difference. The same goes for professional domestic window cleaning and DIY window cleaning.
Minimise the property damage risks. If you damage your windows by scratching or breaking them while you are cleaning the glass, you have to pay for the replacement from your own pocket. Professionals know how to avoid damage and in a rare case of something going wrong, they have an insurance to cover the damage.
Think about your health and safety. You don't have to climb ladders and risk your own safety just to get streak-free windows. Also, using chemicals can negatively influence your health. You can easily avoid these dangers because these days most of the window cleaners work from the ground by using water fed poles and purified water.
Free yourself from the hard work. Cleaning windows is not an easy task so why do it on your own? And when you consider the health conditions or disabilities that might prevent you from excessive physical activities, hiring someone else might be your best option.
Free up some time for yourself or your family. With so many things on your list, it's obvious that the currency of the 21st century is time. What might take you a day or two, the professional will complete in less than two hours.
Prevent your glass windows from corrosion. Acid rain, polluted air and other artificial corrosion agents can damage the gentle surface of your precious window glazing. Your maintenance costs, in the long run, will be less by preserving in a good shape what you already have.
What is the average cost of professional window cleaning service?
At Fantastic Services, we offer window cleaning services to different domestic and commercial types of properties (e.g. Maisonette flat, Terraced house, Conservatory). It is your call if you want your windows washed only from the inside, outside or both sides.
Window Cleaning Prices
Feel free to check out the full window cleaning price list of all treatments that are currently being offered:
Property Type
Flat
Maisonette flat
Terraced
End-of-terraced
Semi Detached
Detached
Prices

Fantastic Club


Standard

Fantastic Club


Standard

Fantastic Club


Standard

Fantastic Club


Standard

Fantastic Club


Standard

Fantastic Club


Standard
Outside
£37
£39
£45
£50
£39
£43
£39
£43
£39
£43
£48
£53
Inside
£37
£39
£45
£50
£37
£39
£37
£39
£37
£39
£46
£51
Both Sides
£37
£39
£45
£50
£57
£63
£57
£63
£57
£63
£73
£81
How to Avoid the Most Common Window Cleaning Mistakes
There are several things that might go wrong while cleaning windows. To avoid the most common window cleaning mistakes you should:
Refrain from using chemical cleaning solutions. To keep your family's health, it's advisable to make your own eco-friendly solution. This is a more efficient way to clean the windows.
Avoid the use of hazardous equipment. Many people clean their hard-to-reach windows from the outside by themselves. This may be risky for your health because you can break limbs or sustain even some riskier and life-threatening injury. Instead, you can call for professional help with this task.
Forget about the newspapers. Many households use them for wiping and polishing the glass. Well, this is another mistake. Newspapers will only move around the grime and the ink will leave even more dirt. This will stain the surface of your windows – definitely not the result you were looking for.
Stop cleaning with the wrong tools. You shouldn't use rough brushes or scrub pads when cleaning the frames. You can easily scratch the glass surface of the windows. Rather than this use a soft microfiber cloth and other proper window cleaning equipment mentioned above.
Eco-friendly Window Cleaning Tips
What is your window cleaning routine? Do you use synthetic products to keep your windows bright and shiny? If that's the case, you have to get familiar with some hidden dangers connected to the most commonly used household window cleaners:
| | |
| --- | --- |
| Eco-friendly homemade window cleaner | Chemical solvent glass cleaning solutions |
| Made of Natural products | Made of synthetic products like: Phthalates Ammonia, Glycol Ether, Synthetic fragrance and many more… |
| Safe for your health | Potentially harmful |
| No immediate side effects | May cause: acute skin or respiratory irritation watery eyes chemical burns |
| No long-term side effects | May cause: Reduced fertility Chronic fatigue syndrome Anemia Liver and kidney damage Asthma Allergies The list goes on… |
| Safe for kids and pets | Keep out of reach of children – may cause severe intoxication if swallowed, inhaled or absorbed through the skin |
| You know what's inside | Most manufacturers don't list the ingredients, you don't know what's inside |
| Inexpensive | Adds up on your budget |
How to make homemade window cleaner
Now when you know how dangerous these products might be, it's time to prepare your own cleaning solution. There are hundreds of ways you can do that and here you can find some of the best recipes:
Use water and vinegar – an all-time classic recipe that contains:
One part water;
One part white vinegar.
Mix them together in equal parts and use this non-toxic do-it-yourself glass cleaner to bring the precious sun rays back into your home. The only disadvantage of this homemade window washing cleaner is you may not like the smell of vinegar. If that's true for you the next recipe might suit you better.

Mix water, vinegar and lemon juice in these proportions:
1 tbsp. of white distilled vinegar;
2 tbsp. of lemon juice;
1 cup of hot water.
This easy homemade glass cleaner recipe will not only help you clean your windows streak free. Also, it will leave your house refreshed with a natural citrus scent. Repurpose this cleaning solution by using it on other surfaces and even on your clothes to remove stains.

Add water, liquid soap and vinegar to get an earth-friendly homemade window screen cleaner:
2 cups of water;
3 tablespoons vinegar;
½ teaspoon liquid dish soap.
The extra soap additive will help you clean easier some of the hardest to wash stains on your windows.
Combine water, white vinegar and a few drops of essential oil:
1 cup of water;
1½ cup of white vinegar;
4-5 drops of essential oil.
Depending on your personal preferences you can choose different essential oil like lavender, lemon or some other citrus scent you adore.
***
So there you have it, your exhaustive guide on how to clean windows at home. Please, do leave a comment below if you have feedback or other clever ways to leave windows spotless!
Posted in Cleaning Guides
Fantastic Services is your one-stop shop for 25+ professional home cleaning and maintenance services, provided within the UK. Using high-grade equipment that is inaccessible to everyday households, the dedicated service specialists will gladly go the extra mile to turn your home or office into something truly special.