In order to reliably store your furniture, you should be informed about the methods and processes involved. You can read all about the steps that you need to take, so you can be prepared for the task. Preparation is key.
If you want your furniture to be well preserved in the storage unit, you need to do a couple of things prior to storing them.


Lists With Needed Materials And Tools
Here are all the tools and materials that you might need while preparing your furniture for long-term storage.

Tools & Other
Magnet (to help keep the bolts and screws)
Screwdriver
Hexagon Keys
Wood Lacquer
Bronze or Paint (for the metal furniture)
Sandpaper
WD-40
Cleaning Materials
Cleaning Solutions
Rags
Wax (for polishing wooden furniture)
Vacuum Cleaner
Soft Towel for Polishing
Packing Materials
Painters Tape
Plastic Sheet (for the floor)
Storage Blankets
Boxes
How to Prepare Your Furniture for Self-Storage
You can simply follow the procedure in the order:

Cleaning comes first
Disassemble
Cover / Pack
Arrange Properly in Storage
More tips and information on, why those steps are import, are presented below. Enjoy your read! We hope you find it valuable.
Start With Proper Cleaning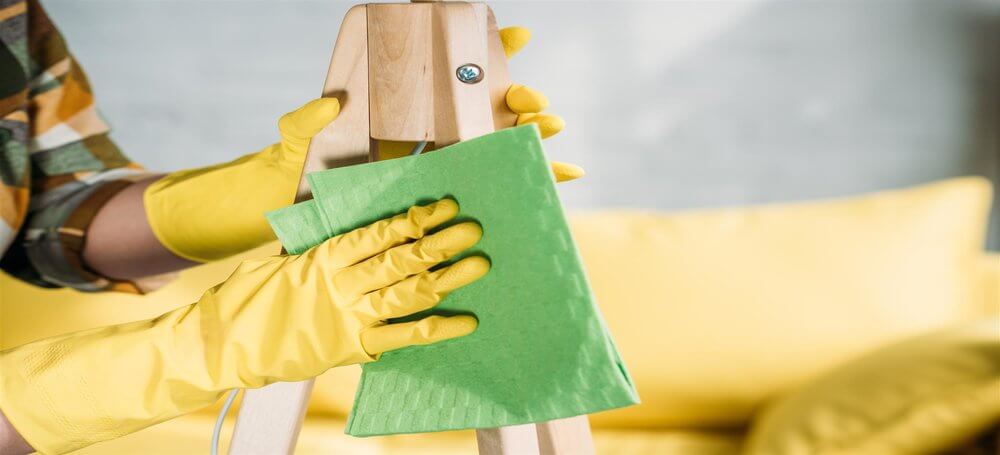 depositphotos / By IgorVetushko
A pivotal moment before storing furniture for an extended period of time is to clean it well. It may not make much of a sense to you right now. Why should you invest time and effort into cleaning something, that will go into storage? You will clean it again after a couple of weeks while arranging your furniture back in your home.
The problem comes with the amount of accumulated dust, bacteria and other organic and non organic materials. Such residue provides conditions for mould and mildew to grow on your furniture.
Damaging your furniture while in storage would be a disaster. It might turn into a substantial budget set back if you need to buy new sets. That is why we are sure you will find great use in our guide which will show you how to clean furniture. How to pack furniture and how to store it.

How to Clean Wood Furniture
First of all you will need a brush or your vacuum cleaner with the brush extension attached. Remove all dust from your wooden furniture. You can then wipe the surfaces with a piece of cloth and a bit of detergent sprayed on it. Don't use aggressive cleaning solutions, you don't want to damage the gloss finish (if any).
Try out the detergent on a small area. If everything seems fine, continue with the cleaning process.
Now give some time for the cleaning solution to vaporise of the wood and when it is absolutely dry, wax them. This will give your wooden furniture a protective overlay. It will help with preserving it while in storage. Wax protects wooden furniture from moisture and splitting. Splits in the wood, result of temperature fluctuation, might be impossible to repair.
If you are wondering how to treat and clean wooden garden furniture, the process is pretty much the same. There is one major difference though – the presence or absence of signs of water damage on your wooden garden furniture. If signs are present, sand the area with adhesive paper. Remove any darken spots or fungi. Remember, remove only the top layer. Then, continue with the cleaning procedure as with any other wooden furniture. In the end, you can apply a thin coat of lacquer if the old one has worn off.
How to Clean Old Wooden Furniture
You just need to be cautious with the lacquer coating. Often, it chips off while you try to clean the furniture. You need to remove the damaged layer. Clean the furniture and then apply a fresh coat of lacquer.
You need to know the type of wood the furniture is made of in order to pick the correct lacquer.
Cleaning Metal Furniture
Your metal furniture will need proper brushing. Make sure you remove all the dust. Pay extra attention to any hard to reach corners and decorative details.
After brushing off, spray the furniture with a cleaning solution. You may use something with alcohol to disinfect it as well. Don't let the solution drip of the furniture, spray and wipe with a piece of cloth as you go.
Leave the furniture outside to dry. It is really important. Any liquid left will lead to corrosion while in storage.

How to Prevent Rust
Speaking of corrosion, we might as well give you a couple of tips on ways to prevent rust.
Aside from making sure that your metal furniture is completely dry before storing it, you will need to regularly check for damage on the paint.
The lack of protective layer will make it possible for moisture to damage the metal and cause the paint to chip off. All that, thanks to the corrosion working its way underneath.
If you spot any chips in the paint, sand off a small area around them and apply a fresh coat of paint.
In case your metal furniture has no chippings and is rust free, you can still give it a final wax with an oil based solution. This will provide an extra protective layer against moisture. WD-40 might do the trick. Don't get carried away! Spray a bit of the substance onto a soft cloth and rub it into the metal.
Metal Garden Furniture
Your metal garden furniture should be cleaned the same way. The only thing you may approach differently is mud build ups. You can hose those down with ease. Don't use pressure washers, to prevent damage to the paint.
Don't leave mud build ups on your metal furniture. Rust can easily develop underneat it.
How to Clean Plastic Garden Furniture
Cleaning your plastic furniture is the simplest task. Hose down any dirt and debris, spray some cleaning detergent and wipe it off with a towel. If the furniture is damaged by the sun and has gotten all cracked, you are better off with a new set.

Disassemble Everything You Can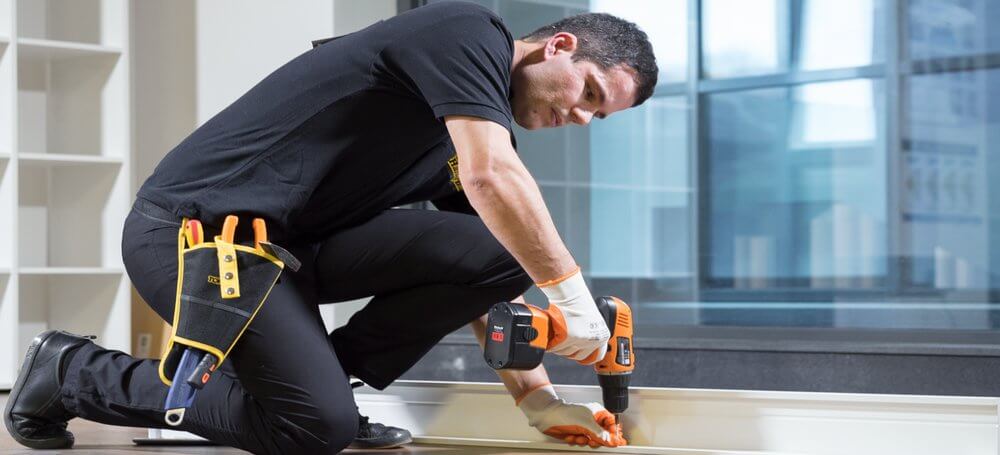 License / Author Fantastic Services
Before your move, you should disassemble all the big pieces of furniture. This will ensure a quick and easy loading in the van. It will also make the packing process of the furniture before sending it to the storage unit easier.
It is at this point where you will need your toolbox. Prepare a magnet. It will help you avoid losing any bolts and screws, that you will need later on when reassembling the furniture.
Remove drawers from dressers, doors from wardrobes and headboards from beds. You can later pack those separately.
This will not only make loading easier. It will allow you to store the furniture while leaving enough space for other household items. You can put the pieces of furniture vertically, enabling air flow around them. This assures better ventilation and reduces the chance of damage inflicted by high humidity levels.

How to Correctly Cover Furniture for Storage
Wooden
The ideal way to preserve a wooden piece of furniture in storage is to cover it with a soft blanket. Make sure that you protect all the edges. You can use pieces of cardboard to wrap all the corners. The cardboard will protect them from scratches. You can secure it in place with tape. Keep in mind that if the glue is too strong it might be hard to remove it later. Use painters tape (masking tape), if you need to.
Metal
You don't need to pack this type of furniture too carefully. The only thing you need to keep in mind is to prevent any moisture from coming in contact with the furniture. This depends mostly on your chosen storage method. Yet, don't fall a victim of the common misbelief that plastic wrap will keep your metal furniture safe. Plastic wrap will block any water coming from the outside. But the truth is that the process of condensation can still develop on the inside, ruining your garden metal furniture. Please, avoid plastic wrap as packing material for long-term storage.
When it comes to furniture, often metal is combined with glass. If you have such a piece, you should pack it in bubble wrap. Do not wrap the entire piece, only the glass. This is done in order to reduce the risk of breaking the fragile part while transporting. You can remove the bubble wrap once you have stored your items.
Plastic
There is not much that can happen to your plastic furniture. It is already light and easy to transport. You just have to keep it from strokes and heat. It won't be a problem, even if you plastic wrap your plastic furniture. Just keep them out of direct sunlight.
How Long You Can Store Furniture For
Wooden
This is the most delicate material. It needs to be stored in a well-ventilated place with a low level of humidity. If the temperature is right and there is no condensation, you can safely store wooden furniture for immense periods of time. Months, years even, without a problem. Remember that it might be a good idea to go and check the state of your storage from time to time. If you are keeping your belongings in a garage somewhere you need to keep an eye out for any signs of damage to the wood. Moisture will destroy your wooden furniture within a week.
Metal
The only thing that can ruin your metal furniture is water. Even the smallest amount of water can inflict huge damages in a long-term storage. Once, again, avoid plastic wrap. If you have a leak-proof place with climate control, where to store your metal garden furniture, it can stay there forever.
Plastic
Plastic furniture can be stored everywhere. It just needs to be away from sunlight. The only type of furniture that is not bothered by a couple of water drops and can easily sit in the rain. Keep it under the shade and there will be no problems.

How To Store Furniture Efficiently
depositphotos / By lucadp
The first rule of filling a storage space:
Keep heavy and large objects in the back of the storage. Light objects and things that you might need stay at the front.
This simple rule can save you a lot of hassle. Not to mention that it can save you time, if you desperately need something that happens to be right behind the three wardrobes…
Other than that, there are a couple of tips and tricks that will prove valuable when you are preparing your furniture for storage:
1. Always lay a protective layer on the floor.
Put a layer of synthetic sheet and an old carpet on top of it. You should not store your items directly on concrete.
2. Do not pile heavy items on top of each other.
Look at it this way. If the object that you are trying to stack, weights more than the item you want to put it on, it is a no go. You risk finding yourself in a situation where, everything, falls at your feet.
3. Always leave a small gap between your items and the walls of your storage.
This improves ventilation and is important. Especially if you have wooden furniture stored near the walls.
4. Leave a marking on all fragile items
For example your garden table with a metal frame and a glass top. There are instructions on how to pack a piece of the sort for removals a few paragraphs above. Please, mark such items with an easy to see marking. Something that will notify the removals team and yourself to handle this item with care.
5. Store boxes under tables.
There is no need to waste perfectly good space. You should stack items on top of solid tables also. Just make sure not to overload it. A couple of boxes won't do any harm.
6. Couches may be stored vertically.
If your couch has flat sides you can put it up vertically. Make sure that the surface underneath is perfectly flat. You can remove all cushions and store them separately.
7. Make sure that there is some space between your belongings.
It is crucial to have proper ventilation between your items. It will limit the risk of mildew and moss. Air should be able to float around in order for the air conditioning to work. Provided there is such in your storage unit.
It is now time to talk about your furniture storing options.

Furniture Storage Options
Besides the common storage options, you may decide to dedicate an entire room to keep your furniture in. When you are renovating your home, you may transfer the furniture from one room to another. This is definitely not the perfect solution. It will only slow down the process of your renovation. The time while moving the furniture around will be lost. On top of that, you increase the chance of inflicting damage to your belongings with each move.
It even causes a health risk. Some furniture pieces are heavy and it is hard to manoeuvre with them throughout your home. Even if the furniture is disassembled.
You might be better off choosing a professional service.
Let's list some pros and cons of each storing option, when it comes to furniture.
Portable Storage Containers
There is a chance of rain leaks if they are stored outside. This can destroy your furniture. There is also the problem with the humidity levels inside the metal containers. Even if they are stored in a hall, the lack of ventilation inside may cause condensation.
Self Storage
You will need to do all the heavy lifting yourself. Some self-storage facilities are not air-conditioned. Which, again poses a threat of condensation. There is always the possibility of roof leaks, directly on your furniture.
Storage
Well ventilated facility. The goods are stored in breathable wooden containers, with no contact to concrete. Completely dry and safe environment to store wooden furniture, even if they are antic.
You need to call in before visits, in order to warn the security of your arrival.
More information on each service in our storage option comparison post.
Businesses and Furniture Storage
depositphotos / By denisismagilov
Businesses also change their addresses. Switching to a new office could be very stressful for a business. While the process is undergoing, the business may even stand to lose money if all is not planned before the big move. Considering the profit and time that are at stake while relocating, a lot of businesses prefer to book office relocation.
When it comes to storage, things take a slight turn in the opposite direction. Many businesses prefer to rent bigger properties in order to have a room or two for their personal storage. In those rooms, they often keep consumables like paper, ink banks and staplers. Spare computers and monitors are not an uncommon sight, and even spare desks and office chairs.
This may sound efficient at first, but actually renting a bigger facility often turns out to be more expensive than opting for a professional storage service and keeping your spare furniture there.
In Conclusion
Relocation and renovation tasks demand lots of resources. You need to invest energy, time and money in order to get those chores done. And you would love to finish them ASAP and get back to your normal day to day life.
So, in order to achieve that in the least stressful way, you need to be well prepared. This post has the sole purpose of giving you the information you need.
If you have additional questions or you need to know more about other similar topics, just ask. Leave a comment below and we will do our best to help you out.
Posted in Moving and Packing Tips
Fantastic Services is your one-stop shop for 25+ professional home cleaning and maintenance services, provided within the UK. Using high-grade equipment that is inaccessible to everyday households, the dedicated service specialists will gladly go the extra mile to turn your home or office into something truly special.